- David Blaine -
Dope on a Rope.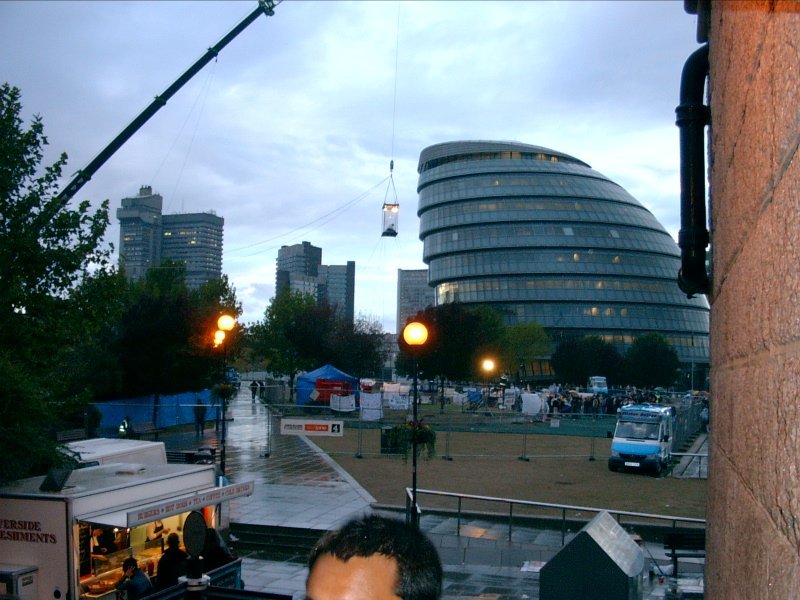 The difference between Blaine and the Liverpool striker, Emile Heskey?
You confess you don't know?

Well, "Heskey, the Liverpool striker, hasn't been seen inside the box for three weeks."
From the newspapers:
Blaines troubles began less than six hours after he started his ordeal,
when teenagers peppered his Plexiglass box with eggs before they were chased away by security guards.

Two blondes had a marginally more refined technique:
They bared their breasts and threw fish and chips to try to entice him down.

But the prize for invention went to golfers who teed up with clubs on Tower Bridge and tried hitting the box with golf balls.
Security guards gave chase and confiscated their clubs and balls, although it was not clear whether they were returned.

Shiraz Azam, 21, managed to wake up Blaine in the small hours when he turned up from Tooting with an Indian bhangra drum.
"We were watching him at home on TV and it was really dull,
so we thought we would come down and liven things up. I wanted to wake him up," he said.

It was not just Blaine they succeeded in disturbing. A short while later a team from Southwark council's noise department turned up:
"We got complaints from residents who live on both sides of the river," said supervisor Linda Villar.
"They complained about people shouting, screaming and swearing, along with someone banging a drum."

Three people have been questioned by police after shining laser pens at illusionist David Blaine,
who is now 30 days into his 44-day stint suspended in a perspex box without food.

"We are not attacking Blaine. But we are borrowing some of the attention focused on his apparent fast
to highlight the fact that millions of people around the world don't have the choice," CAFOD spokeswoman Fiona Callister told Reuters.
The small group of activists for CAFOD, the aid agency of the Catholic bishops of England and Wales,
held a banner stating that 672,000 people around the world had died of hunger since Blaine stepped into the box on September 5.
"We want to highlight the fact that every day 24,000 people die of hunger," activist Rebecca Vaux told Reuters.
"We are not having a go at David Blaine. But for a lot of people, starvation is not an option, it is reality."

A businessman has been fined more than £1,000 after he tried to cut the water supply to caged illusionist David Blaine.
Stephen Field, 38, pleaded guilty to criminal damage.
He admitted scaling a 30-feet scaffolding tower, which houses the unit supplying water
to Blaine during his 44-day starvation stunt at London Bridge.
Passing sentence, district judge Stewart Black told Field: "I cannot understand why people like you can't leave Mr Blaine in peace."
But perhaps the most painful "torture" for the 30-year-old has been the smell of food wafting up from a burger van,
parked underneath his box which is suspended from a crane 40ft in the air.
Tony Montana, manager of the Riverside Refreshments van parked just 50 yards from Blaine said:
"If he doesn't like it, that's tough. We can't move the smell."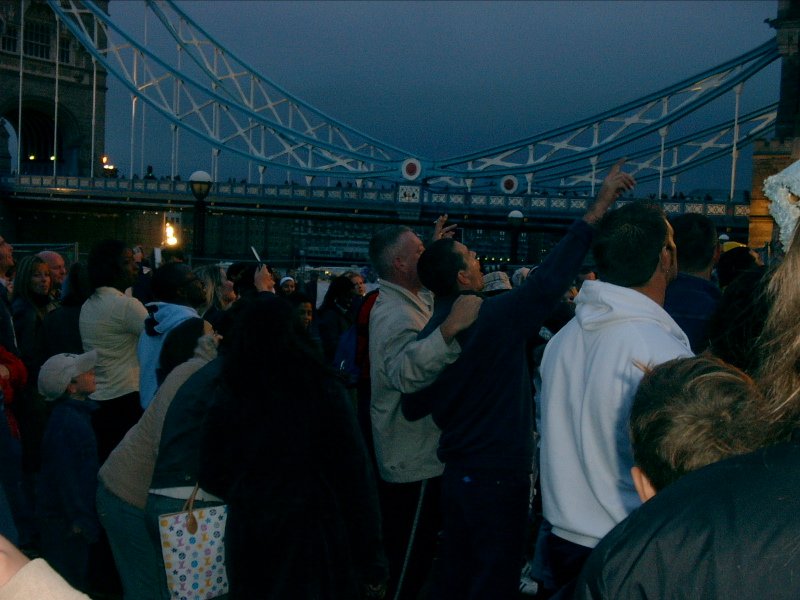 As I visited the Blaine bonanza on October 4th - people were singing songs to Blaines praise.

Cheers of "We love you Dave" mixed with the occasional "Get a job!! --- dope!?"